REASONS FOR THE POPULARITY OF EQUIPMENTS FROM USA
The agricultural machinery market in America has been overcrowded for a long time.
Farming activities in this country are developed at a high level, therefore, the technique is constantly being improved, displacing the units even two years ago.
Agricultural machinery from the USA, the cost of which is now lower than in Europe, attracts buyers from all over the world with its advantages.
Excellent quality. Great Plains, John Deere, Kinze – these companies are well known in the domestic market, as well as the best imported models of equipment for farms;
Independent diagnostics and receiving a full report from the dealer;
Possibility of your configuration at the right price
High level of exploitation.
Storage only in covered hangars, which allows you to save both new and equipment from the secondary market.
TECHNOLOGY DELIVERY PROCESS:
Transportation of equipment in the USA and Canada is carried out by our employees working in these countries. They prepare documents, resolve all issues with time, route, selection of transport and delivery to the port.
For shipment by sea to Ukraine, large-sized equipment is delivered by trawls with subsequent transshipment into a 40 'flat-track container – a platform in which there are no side walls and roof.
The platform is 12 meters long, and its shape allows to transport oversized cargo of non-standard width, height and weight. In the process of such transportation, the wheels are removed from the equipment, and the containers themselves are placed under the deck. Pros – savings, and also protection of equipment from corrosion. Transit time for this transportation from USA to Ukrainian ports takes about 30 days.
From the ports of the USA to the ports of Germany, the delivery of agricultural equipment is carried out using the Ro-Ro method. Self-propelled agricultural machinery is rolled onto cargo ships under their own power or by roll-trucks in a horizontal position through the hinged stern of the ship. The main and reliable shipping companies that offer quality service to Germany are Kline, Hoegh Avtoliner, NYK, ACL. The cost of this transportation depends on the size of the equipment – length, width, height. Transit delivery time from US ports to German ports takes only 10-14 days .;
After arriving at the ports of Ukraine or Germany, in the same way, the cars are rolled out onto the shore and loaded onto a transport that will deliver them to the desired point. Our company will help you reload your equipment in European ports to a car, arrange all transit documents (T1, CMP, etc.) and deliver your cargo to your warehouse.
ADVANTAGES OF COOPERATION: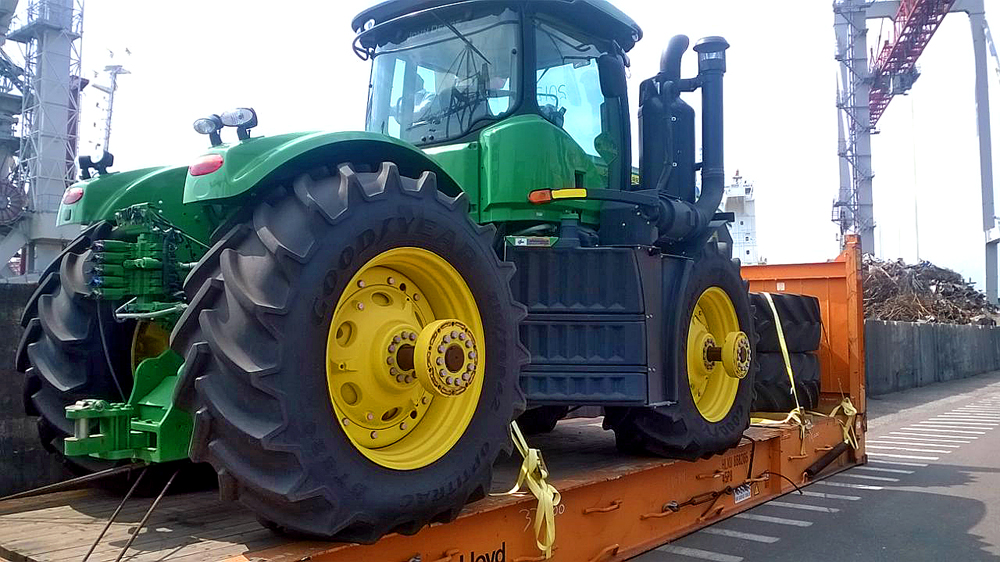 flexible financial policy, loyal prices;
developed partner network;
quality service and professional team;
own offices in America and Canada;
individual calculation of shipping costs for each client;
optimal delivery cost;
tracking cargo along the route;
round-the-clock communication with managers;
quick solution of unforeseen issues.